The B.H. Wood Chess Pieces - 3.75" King
Brand

SKU:

BUILDMENWBHW375

Set Weight:

44.2 ounces (1.25 kg)

Manufacturer:

The House of Staunton

King Height:

3.75'' inch / 9.53 cm

Base Diameter:

1.65'' inch / 4.19 cm

Includes Board:

The Chess Board featured is for photographic purposes only and must be purchased separately

Total Pieces:

34 Chess Pieces, including 2 Additional Queens (for Pawn Promotion)

Recommended Board Size:

2.25 inch / 5.7 cm , 2.375" inch / 6.0 cm"
The House of Staunton is proud to offer the B.H. Wood Series Chess set. A full tournament-sized Chess set, it features a 3.75" King with a 1.65" diameter base. The Chess pieces are hand carved by our master artisans and crafted out of the highest grade woods. The Chess pieces are heavily weighted with luxurious billiard cloth base pads and a beautiful finish.
As with all of our Chess sets, the B.H. Wood Series exemplifies a perfect combination of distinct beauty and functionality. It has been designed to withstand the rigors of practical play while maintaining an elegance which has become the hallmark of a House of Staunton chess set. The design, quality and craftsmanship of this set is UNMATCHED by any set of Chessmen in its price range. Nothing even comes close!
The Chessmen are new and each set consists of 34 Chessmen, including four Queens, a standard that was introduced by The House of Staunton in 1993.
ALSO INCLUDES A FREE
FRANK CAMARATTA SIGNATURE SLIDE-TOP CHESS BOX
($69.95 VALUE)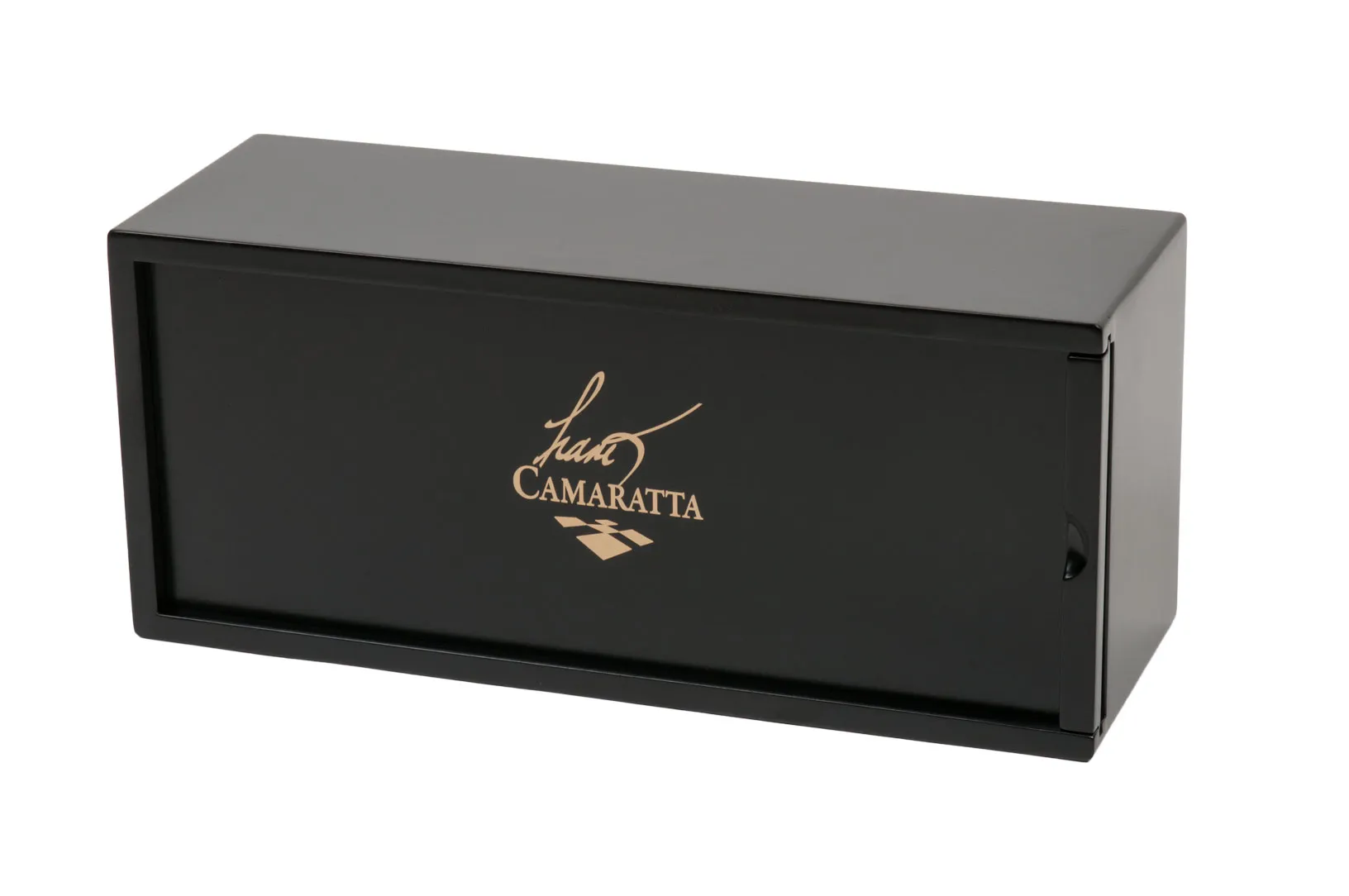 The Chess Set That Ended Up In Court!

During the 1930s, Baruch (B.H.) Wood manufactured his own line of chess pieces that were distributed through Sutton Coldfield. In 1937, Wood advertised his namesake chess pieces for sale in CHESS Magazine and used the term 'genuine Staunton chessmen' in the advertisement. John Jaques & Son, Ltd., creator of the original Staunton Pattern Chess pieces sued B.H. Wood for deceptive advertising, claiming that the use of the term "Genuine Staunton" was misleading and implied the pieces were made by Jaques. Wood called Sir George Thomas, Max Euwe and Lodewijk Prins as witnesses for his defence. The case is referred to by Fred Wren in his article 'Tales of a Woodpusher: Woodpusher's Woodpile', which appeared in Chess Review, 1949 and was reprinted in Reinfeld's The Treasury of Chess Lore (New York, 1951). The issues of CHESS of the time also contained a huge amount of material on the case. The original court decision was that 'Staunton' alone was a permissible description, but that the phrase 'genuine Staunton' implied a product made by Jaques & Son, Ltd., as opposed to any Staunton pattern. However, B.H.Wood appealed and, in 1940, won.


About B.H. Wood
In 1935, Baruch B.H. Wood founded the magazine CHESS, which became one of the two leading chess magazines in Great Britain. He edited it until 1988, when it was taken over by Pergamon Press. Wood was the chess correspondent for the Daily Telegraph and The Illustrated London News. From 1948 to February 1967, he was responsible for the chess column of the Birmingham Daily Post. He also wrote a popular and often reprinted book Easy Guide to Chess (Sutton Coldfield 1942), described by Grandmaster Nigel Davies as "one of the best beginners books on the market". His other books include World Championship Candidates Tournament 1953 (Sutton Coldfield 1954) and 100 Victorian Chess Problems (1972).

From 1946 to 1951 he was a president of the ICCA, a forerunner organization of the International Correspondence Chess Federation. Wood was a FIDE Judge, an international chess arbiter, and the joint founder of the Sutton Coldfield Chess Club. Wood represented England when it joined FIDE, the world chess federation. He was longtime President of the British Schools Chess Association and also of the British Universities Chess Association.

Between 1938 and 1957, Wood won the championship of Warwickshire eight times. In 1939 he represented England at the Chess Olympiad in Buenos Aires. He won the tournaments at Baarn (1947), Paignton (1954), Whitby (1963), Tórshavn (1967) and Jersey (1975). He tied for 4th–6th, scoring 5 points out of 9 games, at the 1948–49 Hastings Christmas Chess Congress, 1.5 points behind winner Nicolas Rossolimo. In 1948, he tied for second place at the British Chess Championship held in London. He won the British correspondence chess championship in 1944–45.
The original B.H. Wood set graces the cover of How to Play the Endgame in Chess by Leonard Barden.